The Veterans Writing Workshop gives veterans the tools and confidence they need to bring their stories to life.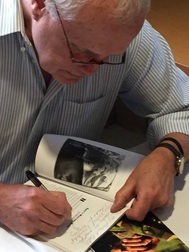 Veterans meet once a week for valuable peer support and feedback on their writing. These professional-level writing workshops are free of charge to all U.S. veterans and active duty military.
The workshops culminate with the publication of an annual anthology that preserves and celebrates the veterans' writing. Veterans then share their accomplishment with the community in public readings and events.
[For what to expect at a Veterans Writing Workshop,
click here.
]
---
WHERE AND WHEN
The Veterans Writing Workshop takes place at Fordham University's Lincoln Center campus in Manhattan and at the Fordham Westchester campus in West Harrison. These free 10-week workshops are offered three times a year.
[
Click here for details and registration
.]
SPECIAL VETERANS PROGRAMS:

The Veterans Writing Workshop also works closely with organizations who serve veterans in residential and clinical settings. [For more information,
click here
.]