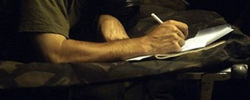 The Veterans Writing Workshop (VWW) was created as an outgrowth of a successful veterans' writing workshop hosted by Fordham-Westchester University in spring of 2010 as part of the National Endowment for the Arts' The Big Read program. Today it has grown to provide free writing workshops for veterans, active duty service members, and their families throughout the year in public settings and veterans' facilities throughout the New York Metropolitan area.

VWW has received support from the Fordham Veterans Initiative, Arts Westchester, Poets & Writers Readings/Workshops Program, the Hudson Valley Writers Center, and other funders.

David Surface, founder and instructor of VWW, has 20 years of experience teaching writing to all age levels in a wide variety of community settings, including public and private schools, adult education programs, and social service organizations.

He is also founder of the F•E•G•S Writing Project for the Federation of Employment Guidance Services, a major social service organization, designing and creating writing programs for adults in behavioral health settings throughout New York City.

David also helped to launch Writing for Social Change, an initiative of the Hudson Valley Writers Center, establishing writing programs in non-traditional community settings in Westchester County, including homeless shelters, domestic abuse shelters, and reintegration programs for formerly incarcerated adults.

He also serves as a consultant and writer-in-residence in the public school system, teaching writing residencies in public and private schools throughout New York City and Westchester County. He designs and leads professional development programs for teachers and administrators, focussing on Special Education and ESL students. He currently leads fiction and creative non-fiction writing workshops for adults at the Hudson Valley Writers Center and is a published author and recipient of fellowships from the New York Foundation for the Arts.

Julia Rust, administrator and assistant instructor of VWW. Coordinates scheduling and promotion of ongoing free writing workshops for U.S. veterans and family members in community, clinical, and residential settings. Provides graphic design and production of six anthologies of veterans writing each year.

Julia is a published author and actor, served two years on the Board of the Hudson Valley Writers' Center, and serves as instructor for the Families of Veterans Writing Workshop in White Plains.

---